LIBROS ESCRITOS POR HEDI ENGHELBERG
All labels given to people are dangerous. They put them in camps! Hedi Enghelberg
"Nunca, en la historia de la humanidad, tan pocos, decidieron la muerte de tantos, en tan corto tiempo" | Hedi Enghelberg
ESCAPE DEL ULTIMO TREN DE AUSCHWITZ
ISBN 980-0-759794 | LOC CATALOG 2004430580 | PRIMERA EDICION. 2000
ISBN 978-1-60585-127-3 | SEGUNDA EDICION, 2009 | COVER 2009
"Escape del Último Tren de Auschwitz", se pude y debe ser entendido como una metáfora, una licencia literaria, en el sentido del escape físico y mental de una muerte casi segura, que representaba la fantástica operación militar de los Einsatzgruppen y la IMPLEMENTACIÓN de la "Solucion Final" de Hitler, Himmler, Heydrich y Eichmann y sus miles de seguidores. | HEDI ENGHELBERG

SEGUNDA EDICION 2009 | PAPER $14.99 | BUY

DIGITAL BOOK FORMAT 2010

DIGITAL LIST PRICE

$

4

.99
SPANISH EDITION | KINDLE EDITION
Impressive !!!
As I was in school an old Jewish came to tell us his story as he escaped the concentration camp ….. He was speaking. For around 4 hours and I am still remember me that this 4 hours was passed by in seconds …I am young too, means it wasn't my fault but I am sorry for this what happens to you all !
Kind regards / Un cordial Saludo / Mit freundlichen Gruessen / Vennlig hilsen Roland P. Zimmermann | GERMANY
---
Lei el primer capítulo disponible en español del Escape... y me impresionó la fuerza de las descripciones. No he vivido una experiencia similar pero sí lo han hecho familiares muy cercanos, como mis abuelos, que llegaron desde Yugoslavia después de finalizada la primera guerra mundial, o mis hermanas y cuñados que viajaron al exilio por la dictadura de Pinochet.
Imágenes como la salida de Bucarest me recuerdan relatos de mis parientes a su llegada a Edmonton. Eso le da a tu escritura carácter universal.
Felicitaciones.
CEZAR ZUNIGA | CHILE
---
Hedi,
Que increíble las cartas que has recibido del premio Nobel de la Paz y otras destacadas personalidades ! Me impactó mucho la similitud entre tu flía. y la mía ya que los padres de los padres de mi abuelo provienen de Polonia y de Alemania y en el caso de los padres de los padres de mi abuela provienen de Rusia, al igual que en tu caso ! Mi flía. también escapó de Alemania durante la 2° Guerra Mundial. Aquí en Punta del Este hay una sinagoga muy importante que nuclea a la alta sociedad judía que reside en Bs.As., Montevideo y algunos Paulistas también (San Pablo); Si te parece oportuno, puedo pedir una reunión con el Rabino, presentarle tu libro y tal vez por su intermedio, ubicarlo en las librerías Uruguayas ... ¿Qué opinás?
Abrazo,
FEDERICO D. | ARGENTINA
---
| | | | | |
| --- | --- | --- | --- | --- |
| | | | | |
| LABOR CAMPS | LABOR CAMPS | LABOR CAMPS | LABOR CAMPS | LABOR CAMPS |
Entre 1933 y 1945, Europa estaba bajo el dominio del mal. Durante este periodo, las negras nubes de una guerra total, apartaron sin número de tragedias individuales, que moldearan varias generaciones que fueron asesinadas y maltratadas por el maligno genio de Adolfo Hitler y sus seguidores.
Seis millones de Judíos fueron asesinados bestialmente por los alemanes armados e inspirados por Hitler. Otros 3 millones se salvaron de esta organizada e institucionalizada furia criminal, que no tiene igual en la historia de la humanidad.
Esta es la historia de uno de los cientos de miles de prisioneros Judíos, que trabajo por más de cuatro años en construcción de vías férreas, caminos, casamatas, búnkers y otras obras militares alemanes y rumanas.
Moises (Marcel) Enghelberg se escapó el último tren que salió de Rumania en la noche del 23 de Agosto de 1944, cual destino era Auschwitz.
Sobrevivió la guerra, formó una familia, trabajo con dignidad y honestidad. Fue testigo de los cambios de Europa, del Medio Oriente y del Mundo. Fue prisionero de la Guerra Fría, hasta que emigró a Israel, en 1983.
Segunda Edicion, revisada y actualizada + extras | COVER 2009
Segunda Guerra Mundial @ 70 | Pacto Molotov-Ribbentrop http://www.ireport.com/docs/DOC-323339

| Capitulo 1 | Capitulo 8 | COMENTARIOS
En formato digital & según demanda / On digital format & on demand
---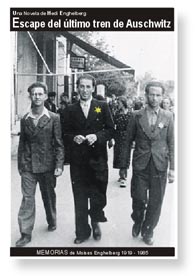 This is the remarkable story of a man (Moises Enghelberg) who was a prisoner, worked in the forced labor concentration camp system and eventually escaped a fatal destiny, to become a normal member of the society in a Rumania submerged in a turmoil, political unrest, communist revolution, cold war and anti-Semitism. This is a story of his own lifetime and historical events that left an impression on him, his family, country and world.
The memoir spans five generations of the author's family, from the turn of the century through the Holocaust to the present day, delving into Rumanian-Jewish culture and revealing the trials and tribulations of this extraordinary family.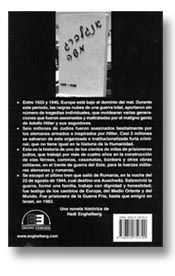 This post-World War II history examines the experiences of Jews in Rumania, who just after the war, found shelter in the same places they were living before the war. Because immigration to the British Mandate of Palestine, as well as to the U.S., was restricted, thousands of Jews from Eastern Europe as well as Rumanian Jews who had survived the Holocaust needed a temporary haven. Many eventually emigrated, while some stayed in Rumania to rebuild their lives and communities.
Though told by Hedi Enghelberg and sometimes by Moises, direct quotes of his remembrances make Moises's story immediate and personal. Telling details of moments of horror, desperation, misery, and the tricks of survival add to this richly involving biography.
It's a family portrait of considerable eloquence and intelligence. The translation to English, Hebrew and Rumanian is a must.
---
PANSTWOWE MUSEUM AUSCHWIRZ-BIRKENAU W OSWIECIMIU | FOTOS KL AUSCHWITZ
| | | |
| --- | --- | --- |
| | | |
| LIBRO PRESENTADO AL JERZY WROBLEWSKI, DIRECTOR MUSEO CAMPO DE CONCENTRACIÓN AUSCHWITZ-BIRKENAU, MAYO 2005, ANIV. 60 ANOS LIBERATIOCON | FOTOS RINEL ENGHELBERG | ENTRADA CAMPO DE CONCENTRACIÓN DE AUSCHWITZ, MAYO 2005 | FOTOS RINEL ENGHELBERG | FACHADA/ENTRADA EMALIA, LA FAMOSA FABRICA DE OSKAR SCHINDLER, (THE SCHINDLER LIST) MAYO 2005 | FOTOS RINEL ENGHELBERG |
TALKBACK | COMENTARIOS - LETTERS | CONTACT US | BLOG ENGHELBERGPOST
TODOS LOS LIBROS ESTÁN EN LA BIBLIOTECA NACIONAL DE VENEZUELA (BNV) Y BIBLIOTECA DEL CONGRESO (USA) ALL BOOKS ARE IN BNV, VE & LIBRARY OF CONGRESS, USA
PEDIDOS EN CARACAS VENEZUELA / ORDERS ON LINE OR CALL (58212) 862.2808
fotos | home | ghe | librerías | compras | material pop | artículos | libros | bibliotecas